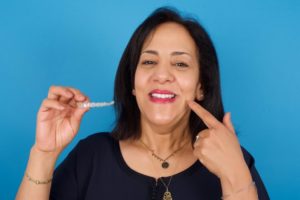 Harriette Thompson was 76 years old when she ran her first marathon. In 2015, she became the oldest person to ever complete the 26-mile race at 92 years young! You're only as old as you feel, just ask Harriette.
If you've ever wondered, "Am I too old for Invisalign?" – you most certainly are not! Invisalign clear braces can get your smile to shape up whether you're 16 or 66. Keep reading to find out why there is always still time for your teeth to look terrific.
Invisalign Makes Sense for Adults
Some adults are told their teeth are fully set in their jaws and can no longer move, but that's incorrect. With the right pressure, teeth can be straightened at any age.
Invisalign can help someone starting with relatively straight teeth or those that are crooked and need significant treatment. It's not all about appearance since straight teeth are easier to clean and reduce the risk of gum disease. A person with straight teeth chews more efficiently, which improves digestion and gut health.
Crooked teeth can lead to jaw alignment problems, which can create bite issues and teeth grinding. Any of these developments can cause chronic headaches or potentially pain in the face or neck.
Last, but not least, someone with properly aligned teeth can speak more clearly.
Why Are Adults Good Candidates for Invisalign?
When Invisalign treatment takes longer than anticipated, it is usually because not all of the dentist's instructions are followed. The major point to mention is that aligners should be worn at least 22 hours each day or treatment is going to take much longer.
Adults have the potential to be great Invisalign patients because they:
Generally practice good oral hygiene
Listen to their dentists
Don't assume being healthy is a given
Maintain motivation to improve themselves
How Do I Determine if Invisalign is Right for Me?
The first step is to schedule a consultation with your dentist. They will need information about your dental history. The dentist will take an impression of your mouth, which will help them understand the issues the aligners need to address. As you should for any medical consultation, it is always smart to make a list of questions in advance that you'd like to ask.
The major qualifications for Invisalign are:
No complex bite issues or jaw problems
A commitment to follow instructions for wearing and cleaning aligners
Excellent oral hygiene to maintain healthy teeth and gums
Achieving success with Invisalign has nothing to do with your age. It's about following the instructions of your dentist and prioritizing your oral health. If you want to straighten your teeth without everyone knowing, Invisalign for seniors in Dayton is the clear choice!
About the Author
Dr. James Mularczyk prioritizes your comfort and relaxation, so he makes it a point to explain every step no matter how minor a procedure is. He knows the importance of keeping current in an ever-evolving field, so Dr. Mularczyk exceeds industry standards for continuing education requirements each year. When you are seeking Invisalign treatment, Dr. Mularczyk may recommend it if you are dealing with teeth that are crooked, crowded, have spaces between them, or if your bite is misaligned. To schedule a consultation, visit his website or call (937) 848-5986.