Dental Bridges – Dayton, OH
Seamlessly Restoring Gaps in Smiles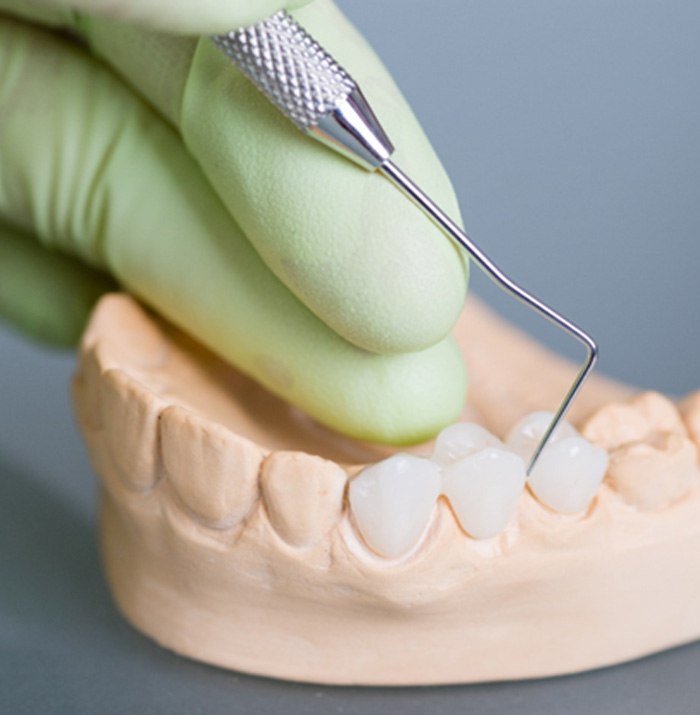 According to the American College of Prosthodontists, an estimated 120 million people in the United States are missing at least one tooth. Having gaps in your smile is nothing to be ashamed about—in fact, it's an incredibly common situation that our team at Advanced Dentistry of Dayton helps patients address. We can restore your smile by securing a custom-crafted, natural-looking dental bridge in your mouth to fill gaps left by two or more consecutive missing teeth. Give us a call today to learn how we can rebuild your smile!
Why Choose Advanced Dentistry of Dayton for Dental Bridges?
In-Network with Several Major Insurance Plans
Ability to Secure Bridges to Dental Implants
Dentist with Over 2 Decades of Experience
What is a Dental Bridge?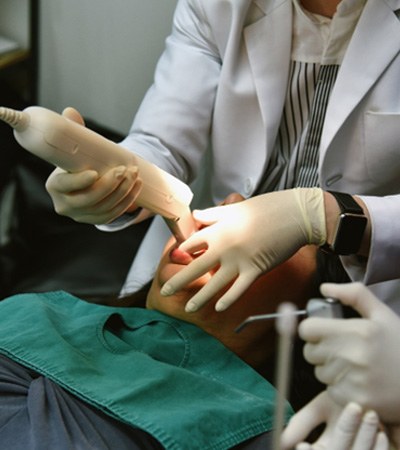 A dental bridge is a prosthetic that's comprised of two main components: two dental crowns, one fused to each side of the restoration, and free-standing replacement teeth, called pontics, that are located between the crowns.
Bridges can be crafted from a variety of materials, including porcelain and ceramic. These are custom shaded to match the natural appearance of your surrounding teeth, so onlookers won't be able to immediately distinguish your replacement teeth from the rest of your smile.
Types of Dental Bridges
Based on your smile goals, budget, and desires, our team can recommend one of two different types of dental bridges. We'll discuss each of your options with you during your initial consultation, allowing you to choose the one that you feel best fits your unique needs.
Traditional Dental Bridge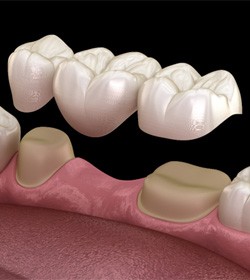 Traditional bridges are anchored to the mouth with dental crowns. Each of the existing teeth on either side of the gap in your smile will be prepared to secure the crowns in place by removing a small amount of enamel. This will allow the restorations to fit seamlessly atop them, holding the pontics securely in place to fill the gap in your arch.
Implant Bridge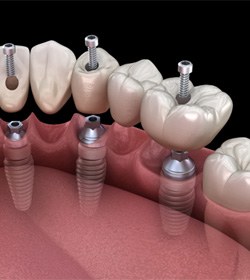 Implant bridges aren't secured to your existing teeth. Instead, they're anchored in the mouth with two dental implants placed on either side of the gap in your smile. This option is ideal for patients who are looking for a longer lasting tooth replacement treatment and would rather not alter their natural, healthy teeth to support the prosthetic.
The Benefits of Getting a Dental Bridge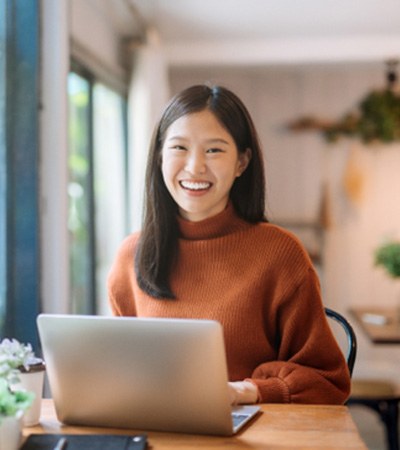 There are several benefits that you can enjoy when you restore your smile with a dental bridge, including:
Closing the gap in your arch will keep surrounding teeth from drifting out of place to fill it.
Your dental bridge will look completely natural, even when placed next to your home-grown teeth.
Brushing and flossing remains the same, even after getting a dental bridge.
With the proper maintenance, your bridge can last for over 15 years.
For added stability and strength, your bridge can be secured to dental implants.
Dental Bridges FAQs
The team at Advanced Dentistry of Dayton is ready to help you fill in the gap in your smile with a dental bridge. Before you book your appointment, though, you may want to learn more about this form of tooth replacement. To assist you, we have put together a brief list of frequently asked questions, along with to-the-point answers. If you do not see the information you were searching for, call our office so we can personally help you out.
Can You Take a Dental Bridge Out?
No, dental bridges are fixed permanently in the mouth. Whether they are secured in place via nearby teeth, a single abutment tooth, or dental implants, they are designed to remain with you for many years. A bridge should only be removed by a dental professional.
Some healthcare providers might refer to "removable bridges," but do not let the misnomer trick you. What they call a removable bridge is actually a partial denture, a different type of prosthetic that is easy for patients to take in and out of their mouth.
What Are Dental Bridges Made Of?
Dental bridges can be constructed out of a wide range of materials. In the past, various metals and metal alloys were popular. For example, you might get a gold or nickel bridge. Such restorations can be very durable. However, they lack aesthetic appeal.
Today, many dentists favor more natural-looking options. Here at Advanced Dentistry of Dayton, we offer porcelain and ceramic bridges. They are virtually identical to real tooth enamel and should blend in flawlessly with your existing dentition.
Is Getting a Dental Bridge Painful?
During the preparation stage of your treatment, the teeth that support your restoration (called abutment teeth) will need to be modified in order to fit beneath your bridge. Your mouth will be numbed, so you should feel little to nothing throughout this process.
Following the preparation of your teeth, as well as following the placement of your bridge, you may experience some soreness and tenderness in your mouth. This is normal and is usually easy to manage with over-the-counter pain medications. If you experience severe pain or discomfort, you should call our team right away for guidance.
How Long Should a Dental Bridge Last?
The lifespan of dental bridges can vary widely. Typically, they endure for 5 – 15 years. How long they last depends on what they are made of and how you care for your smile. For example, you should stick to a good oral hygiene routine and avoid biting down on hard objects that might break your bridge. You should also not grind your teeth. Some patients have found that, if they are diligent about oral care, their bridge lasts for multiple decades.
If you get an implant bridge, the implants themselves should last throughout your lifetime. However, the restoration on top of them will need to be replaced periodically.