Dental Implants – Sugarcreek Township, OH
Modern Tooth
Replacement
Solutions for
Beautiful Smiles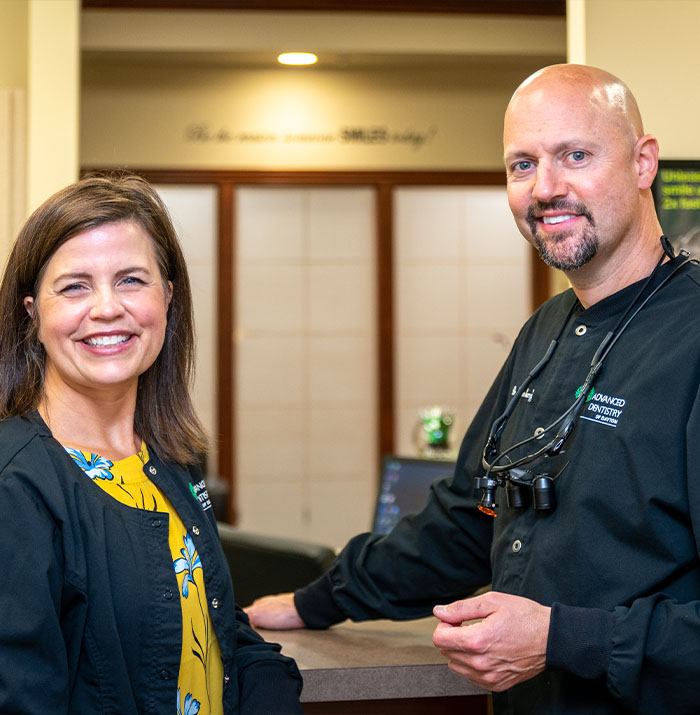 Living with dentures or partials can mean giving up certain foods, little confidence in your smile, and can be uncomfortable. For most people, dental implants can be used to completely replace your dentures, make them more stable, or allow you to get rid of your partial. Your chewing ability and appearance may be dramatically improved with implants. Many of you have missing teeth without any replacement. Although you may feel ok without your teeth, with dental implants in Sugarcreek Township you may feel more secure knowing that your bite is supported, your remaining teeth are not overly stressed, and you can avoid future dental problems.
Why Choose Advanced Dentistry of Dayton for Dental Implants?
Enhance Your
Bite Power
A Cost-Effective
Investment
Custom-Made
Restorations
What is a Dental Implant?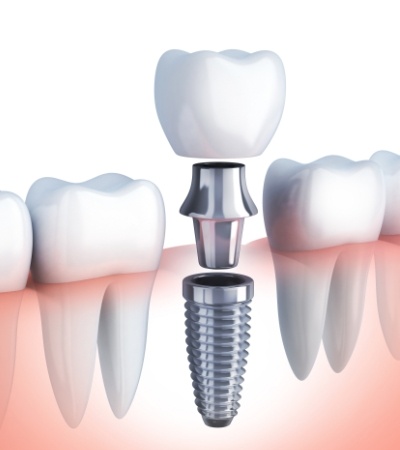 An implant is a man-made replacement for the roots of your teeth. We can place crowns/caps, bridges, or dentures on top of the implants with a connector called an abutment.
Benefits of Dental
Implants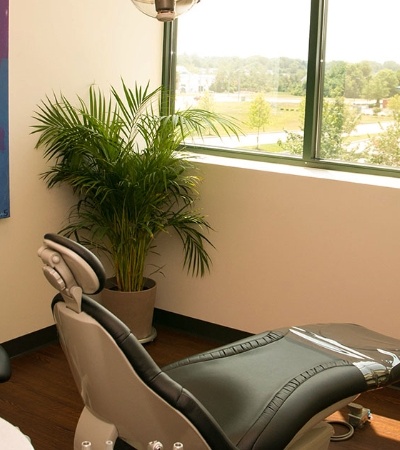 Dental implants come so highly recommended by patients and professionals alike because they're able to replace the entire structure of your missing tooth or teeth, including the roots. This allows them to function and look more natural, as well as a variety of other advantages, such as:
A 98 percent success rate.
Stop jawbone deterioration.
Preserve your facial structure.
Keep restorations from slipping or shifting.
Enhanced chewing abilities that make it easier to eat.
Implant security makes it easier to speak.
Ability to last 35+ years with routine maintenance.
Easy to take care of.
Custom-tailored treatment plans for each patient.
Indications for Dental Implants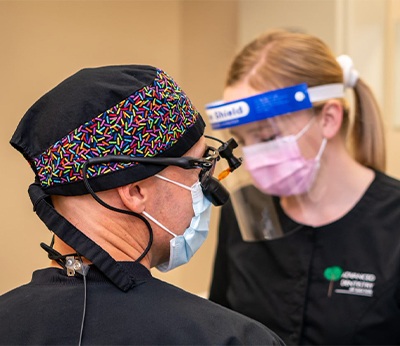 The best way to learn whether you're a good candidate for dental implants is to schedule a consultation with Dr. Mularczyk. During this visit, our team will take X-ray images of your mouth and conduct a visual examination of your teeth and gums. We'll be looking to see if you have a strong enough jawbone to support the implants, any untreated oral health problems that require treatment, and ask you a few questions about your habits, like teeth grinding and smoking. Not everybody is a perfect candidate right off the bat, but that doesn't mean that you can't get there!
Missing One Tooth
To replace a single missing tooth, we can insert one dental implant in the gap below your gums to replace the root. Next, we'll attach an abutment, which is a small metal connector piece, followed by your custom-crafted dental crown to re-complete your smile.
Missing Multiple Teeth
Implants can be used to support bridges. A traditional tooth-supported bridge can also be used to support a bridge, but this requires cutting down the teeth. In the short-term a bridge is much faster and costs less, but over your lifetime it can be the most expensive and least conservative option.
Missing All of Your Teeth
Implants can be used to support partials or dentures. As few as two implants may be used to help support and fit a lower denture. As many as 5-8 implants may be used to completely replace your denture with a permanent denture/bridge.
Partners with the Best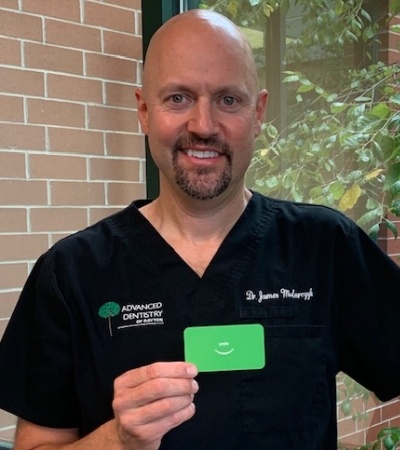 Our team at Advanced Dentistry of Dayton partners with expert local oral surgeons to complete the dental implant procedure and achieve premium results. After the consultation and making sure that dental implants are right for you, we'll schedule your appointment with the oral surgeon we partner with. They'll place the dental implants, and then we'll take care of the rest of the process, including placing your customized prosthetics that we crafted just for your smile.
Understanding the Cost of Dental Implants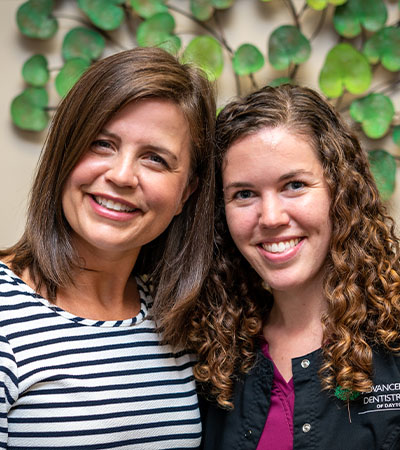 It's true that most dental insurance policies won't cover the cost of dental implants. However, that doesn't mean that they're still not one of the best tooth replacement investments you can make. Because they can last up to four times as long as traditional restorations, they're actually one of the most financially-friendly and hassle-free procedures you can have to restore your grin! If you would like to learn more about your financial options for the dental implant procedure, don't hesitate to contact us and ask.
Dental Implants FAQs
From the benefits to the versatility, it's not hard to see why dental implants in Sugarcreek are considered to be a state-of-the-art tooth-replacement option. If you have read through all the above information and are interested in learning more before committing to this smile-rebuilding solution, we are here to help! Below, you will find the answers to some of the most frequently asked questions we get from new patients. If you'd prefer to speak directly with our team, don't hesitate to give us a call.
How Should I Care for My Dental Implants?
Caring for your dental implants properly is essential to prolonging their lifespan. To start, make sure to brush your teeth at least twice a day and prioritize flossing. Next, limit hard foods, like peanut brittle, which can chip, crack, or otherwise damage the dental crown. Avoiding poor dental habits, like smoking, nail-biting, and chewing on ice is also essential. Lastly, make sure to schedule and attend a dental checkup and professional teeth cleaning every six months. That way, our dentist in Sugarcreek can keep an eye on their condition and set them up for continued success.
Will My Dental Implants Blend In With My Natural Teeth?
If you are replacing only one tooth or several teeth throughout your mouth, you can rest assured that your dental implants will blend in with your natural teeth. Since each one is custom-made to mimic the shade, shape, and size of your missing tooth, the end result is flawless. Plus, since the dental implant replaces the entire tooth's structure from root to crown, there is virtually no movement, ensuring your smile is as functional as it is beautiful.
Does Dental Insurance Cover Dental Implants?
Unfortunately, many dental insurance providers don't view dental implants as medically necessary. Therefore, they typically aren't covered in full. However, portions of the procedure may be included in your benefits, like the dental crown. Therefore, it is always a good idea to double-check! If you would like assistance with this process, don't hesitate to ask our team! We would be happy to help you understand your coverage, file the claim on your behalf, and maximize your benefits to the fullest.
What Is The Recovery Like for Dental Implants?
As straightforward as the dental implant procedure is, it still is a surgery. In the days following your appointment, focusing on recovering is crucial. To prevent irritating the implant site, stick to soft foods, like yogurt and applesauce, take painkillers as prescribed, and use a cold compress to reduce swelling. Following these best practices, and the other instructions on your aftercare guidelines, will ensure you have a smooth, stress-free healing experience.
Does it sound like dental implants are the tooth-replacement solution you've been looking for? Then it's time to schedule an initial consultation with our team. Get in touch with us via our website or by phone so we can help you take the next step toward a full, healthy, beautiful smile.