Cosmetic Dentistry – Sugarcreek Township, OH
Natural-Looking, High-Quality Cosmetic Treatments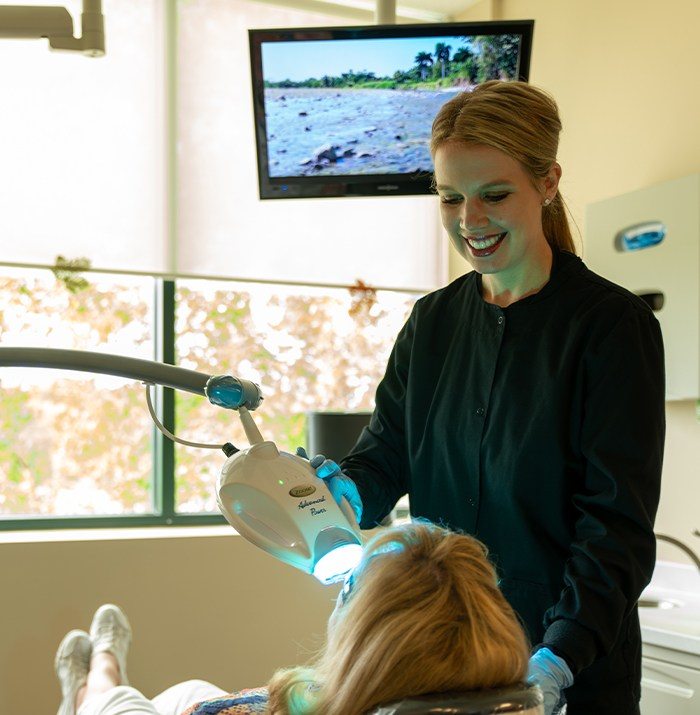 When you catch a glimpse of your smile in the mirror, do you feel self-conscious because you have discolored or damaged teeth? If so, we offer a variety of unique treatments that can help restore your grin's youthful and radiant glow. Since your smile is the first thing that people notice about you, it makes sense to invest in it! To learn how we can boost your confidence and help your grin appear bright, even, and complete, call our dental office to schedule a consultation to discuss cosmetic dentistry in Sugarcreek Township!
Why Choose Advanced Dentistry of Dayton for Cosmetic Dentistry?
Fully-Tailored Care
for Each Patient
Fast In-Practice
Teeth Whitening
Discreet Invisalign
Orthodontic Treatment
Porcelain Veneers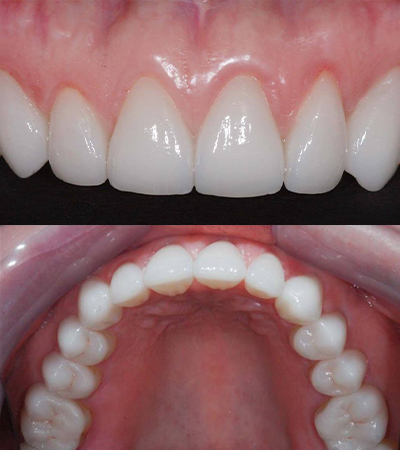 Usually, patients come to us to fix a variety of cosmetic flaws, not just one. In these cases, we'll likely recommend porcelain veneers to help craft a smile that makes them happy and looks beautiful. If you suffer from dental discoloration, damaged teeth, or even slight misalignment that bothers you, veneers can fix it all. Each veneer is a shield-like prosthetic that is customized to fit over the individual imperfect tooth. Once placed, they conceal the flaws and provide you with a bright and undamaged grin that you'll want to show off.
Metal-Free Dental Restorations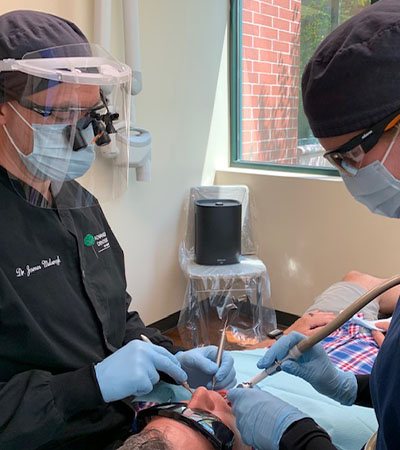 In the past, repairing a damaged and decayed tooth meant using bulky and noticeable restorations that were crafted from metal. Due to the properties of the metal, they were known to cause dental sensitivity and discoloration of the tooth that they were placed on. Today, our team utilizes gentle, tooth-colored materials like composite resin and porcelain to make crowns and fillings that flawlessly blend in with your smile.
Invisalign Clear Braces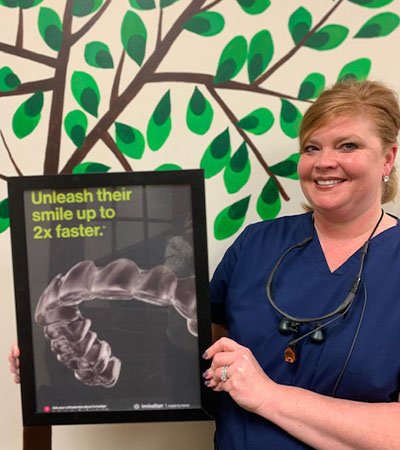 Whether you're a teenager or an adult, few people get excited about needing to wear metal braces and brackets to fix orthodontic issues. These are important to address, which is why we make the process much easier by offering discreet Invisalign clear braces. These are customized aligners made from an FDA-approved clear plastic that fit over your top and bottom arches of teeth. As the weeks go by, your teeth will slowly begin to shift into their ideal positions, until you achieve a perfectly straight and attractive smile.
Learn More About Invisalign® Clear Aligners
In-Practice Teeth Whitening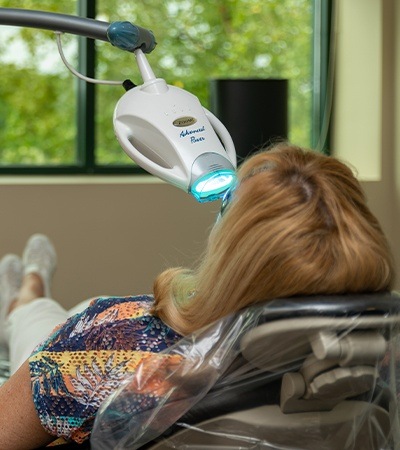 Are you tired of purchasing over-the-counter teeth whitening kits that promise grand results but never seem to deliver? Our team offers safe, optimally effective, and clinically proven in-office Zoom! teeth whitening. It utilizes highly concentrated ingredients that erase even the peskiest dental stains in as little as an hour. Plus, since it's professionally applied by us, you won't have to worry about fidgeting with any whitening trays or instructions at home!
Learn More About Zoom! Teeth Whitening
At-Home Teeth Whitening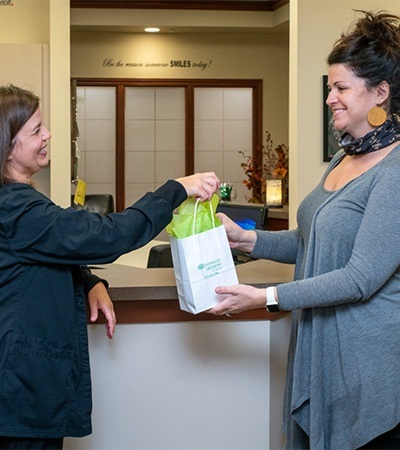 With our at-home whitening kits, you can control the time and strength of the whitening gel to get the results that you want. Most people whiten every day for a week or two, then whiten a few days per year to keep up their new shade. Other options are non-custom over-the-counter whitening trays and strips. The downside to the over-the-counter strips is that many people feel that they do not stick well to the teeth and are not comfortable to wear.
Learn More About Zoom! Teeth Whitening
Gum Recontouring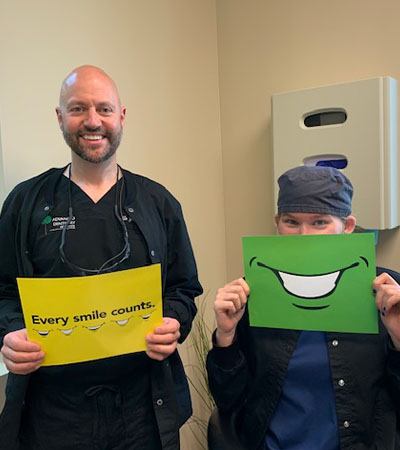 Are you self-conscious about your gummy smile? You work so hard to keep your beautiful teeth healthy and white, and you want people to be able to see them! Dr. Mularczyk can strategically and safely re-sculpt your gumline to allow more of your teeth to show. Using Electron Electrosurgery technology, he's able to do this quickly, precisely, and comfortably.
Digital Imaging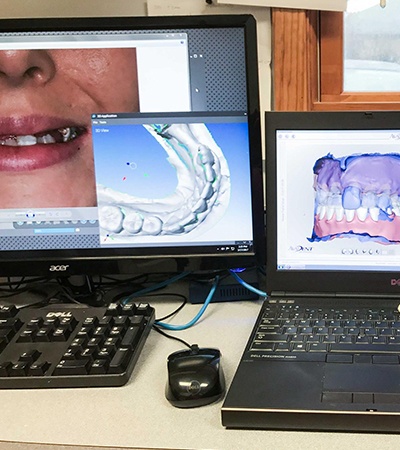 Is the one thing holding you back from getting cosmetic treatment the fact that you don't know what the end result will look like? With our advanced digital imaging software, we're able to craft a computer rendition of your before and after results. That way, you'll know exactly what to expect once you get porcelain veneers, gum recontouring, or any of our other cosmetic procedures.
Understanding the Cost of Cosmetic Dentistry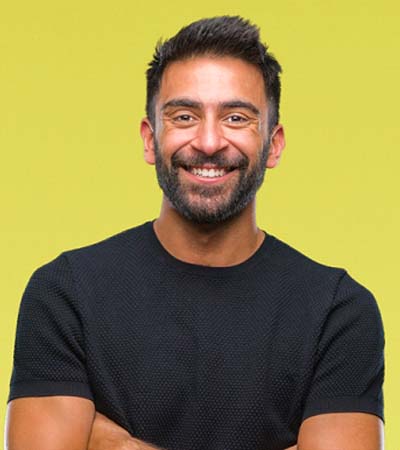 When it comes to making aesthetic changes to smiles, many patients are concerned about the cost more than in other kinds of procedures, mainly because most dental insurance policies do not include cosmetic benefits. However, our team at Advanced Dentistry of Dayton will be completely transparent with you about pricing and walk you through every option for cosmetic dentistry in Bellbrook. With us, you can know exactly what to expect and leave with a satisfied and confident smile on your face.
What Cosmetic Dental Service is Right For Me?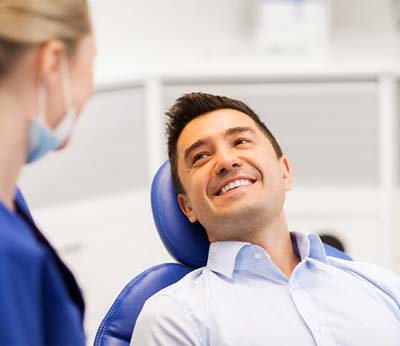 The main changes patients want to make to their teeth are the coloration, size or shape, and the alignment. Fortunately, we offer multiple treatments that can help you accomplish your goals, and we can help you find the right solution that suits you and your budget. These services include the following:
Veneers: While veneers are among the most expensive cosmetic procedures, they tend to last a long, long time. And what's more, they can completely transform your smile in just two appointments!
Metal-free restorations: The pricing of restorations isn't the same across the board. For instance, a bridge will likely cost more than a crown. Much of the cost of cosmetic work will depend on what you need.
Invisalign clear aligners: Correcting the alignment of your teeth can be more expensive than other treatments, but it is an investment in the long-term health of your smile too!
Teeth whitening: Typically, teeth whitening (whether at home or in the office) is the least expensive cosmetic procedure. It is also one of the simplest ways to see fast improvement!
Digital imaging: If you're having trouble imagining yourself with an improved smile, it may be worth the extra cost of using modern imaging.
Keep in mind that the cost of these procedures may vary depending on your individual needs, and we won't be able to give you an accurate estimate until we've examined your smile in person.
Cosmetic Dentistry Can Be An Investment Worth Making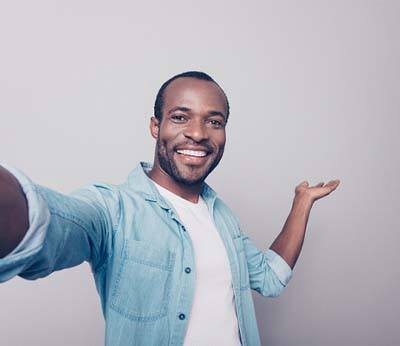 Tons of research studies have found that a confident smile can be very powerful. Not only can it change the way others see you and make you more attractive, but it can also help you feel better about yourself. As a result, you can make improvements in almost any area of your life, including your career and social interactions. Although the cost of cosmetic dental work can feel high, consider it an investment in yourself that continues to pay off with tremendous results.
How to Make Cosmetic Dentistry Affordable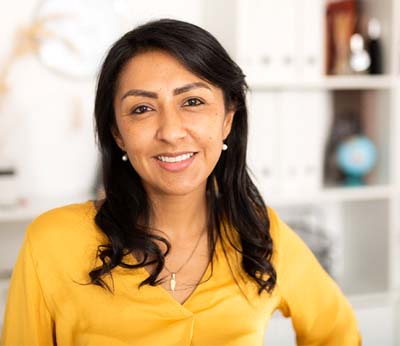 If you're like most people these days, you may not have the extra cash to pay for your cosmetic procedure(s) in one-lump sum. We can help you apply to pay for treatment through CareCredit, which divides the total into smaller monthly payments. We also have a Savings Plan, which may apply to certain procedures. To learn more details about this plan, reach out to our team and feel free to ask us your questions.
Cosmetic Dentistry FAQs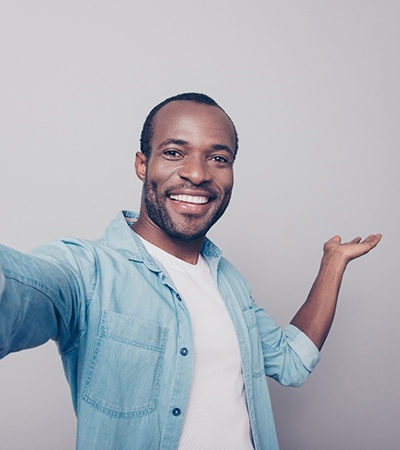 At Advanced Dentistry of Dayton, we want you to love your smile, but we understand that cosmetic dentistry may be a little overwhelming at first, especially with so many options available. That's why we welcome any questions you may have about the services we offer. We've even responded to some of the most commonly asked questions here for your convenience. We hope these answers will help you decide to contact us and schedule a consultation with your cosmetic dentist in Dayton to learn more and get started on achieving your dream smile.
How Long Does Cosmetic Dentistry Take?
It depends on the procedure(s) you're undergoing. Each patient receives a personalized treatment plan, and with it comes a unique timeline. If, for example, you're only getting your teeth whitened in our Dayton office, treatment can be completed in just one hour-long visit. On the other hand, Invisalign can take up to about 18 months to reach final results. At your cosmetic consultation, we can explain the timing involved with each of your options so that you can make an informed decision.
Should I Do In-Office or At-Home Whitening?
As with basically all other cosmetic services, each option has its advantages and disadvantages. While in-office whitening can be completed in just one visit, at-home whitening allows you to brighten your smile from the convenience of your own house. With either option, you'll need to have a consultation, and we can help you determine which choice is best for you and your smile. In other words, you don't have to make the decision on your own!
Am I a Good Candidate for Cosmetic Dentistry?
You most likely qualify for cosmetic dental work, as many patients do. The only requirement is that you be in a good oral health, meaning you do not have gum disease, cavities, or other issues. When we meet with you during your consultation, we will examine your mouth and let you know whether you're good to go. If there is an impediment, we can resolve it as quickly as possible so that you can be ready to start treatment on your desired cosmetic procedure(s).
How Long Does Cosmetic Dentistry Last?
We hate to say it, but not all cosmetic work lasts forever. In fact, after teeth whitening, you may find your teeth discoloring again in the following few years. Veneers, in contrast, generally last for up to 20 years. However, it's important to keep in mind that how long you can enjoy your results will greatly depend on how well you maintain your smile. Fortunately, it doesn't take too much effort to preserve your beautiful teeth and gums. Aside from the everyday brushing and flossing you need to do, regular checkups and cleanings are essential to make sure your cosmetic work continues to look amazing.