Dental Crowns – Dayton, OH
Repair Your Decayed & Damaged Teeth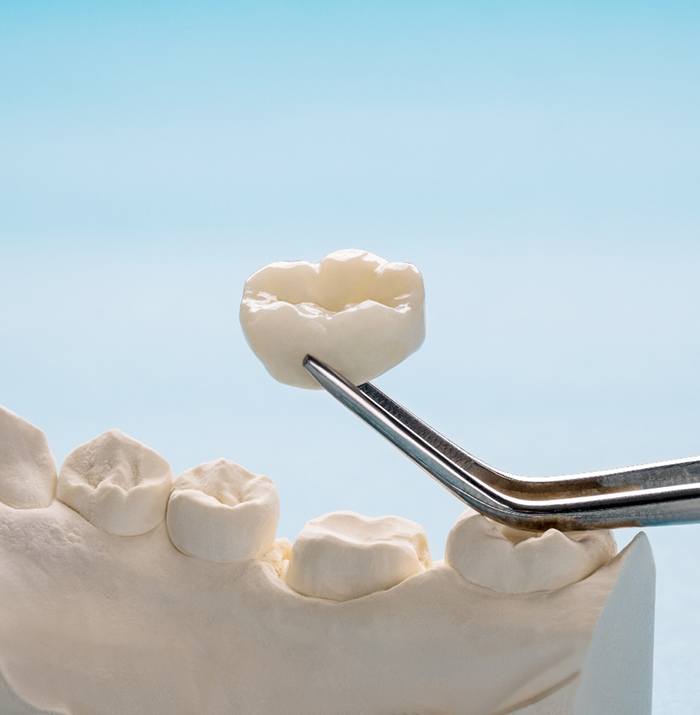 Despite your best efforts, sometimes teeth get damaged. They might suffer from tooth decay or break from an accident — such things are natural. That said, you don't have to live with this dental disrepair. You can always get dental crowns in Dayton, after all! These prosthetics not only protect your pearly whites, but also help them look good as new. You can especially trust those from Dr. Mularcyzyk and the rest of the Advanced Dentistry team. If you'd like to learn more about them, just keep reading or call our office today!
What is a Dental Crown?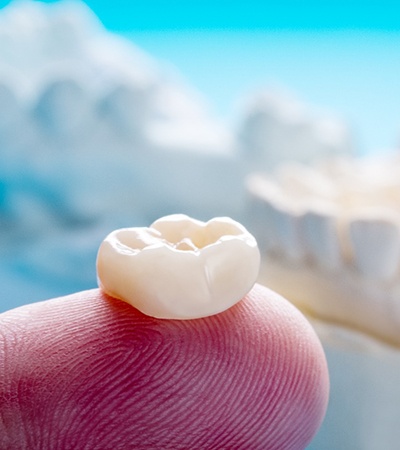 A dental crown is a sort of "cap" that protects and covers a weak tooth. Dentists use them to restore the damaged area's structure, function, and appearance.
A crown works best for patients who have one (or more) of the following:
A severely-decayed tooth with a filling that needs support
Dental fracture in need of strength and stability
A follow-up to a root canal
A Dental bridge that needs to be anchored in place
Tooth loss requiring dental implant treatment
Depending on your needs, we'll walk you through the crown process and ensure you receive the ideal service.
The Dental Crown Process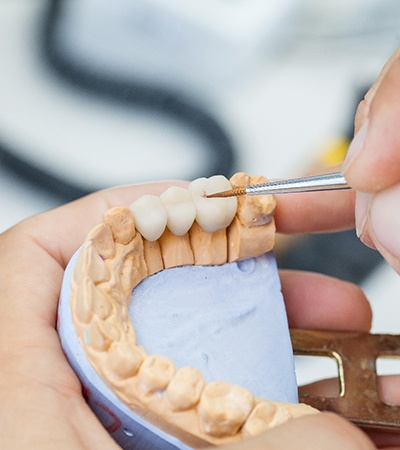 Dental crown placement takes at least a few dental visits.
For the first appointment, you'll consult Dr. Mularcyzyk about whether a crown is your best option. In particular, you'll discuss your smile goals, oral health needs, medical history, and so on. That way, our team will know what crown (if any) would work for you. Furthermore, we'll also learn whether you need preventive work before the procedure.
If our office proceeds with treatment, the consultation can also double as a "prep" visit. In this scenario, our team will ready your tooth by removing bits of its enamel. (This step will let the crown lay flush with surrounding teeth once it's secured.) From there, we'll take an impression to make your final prosthetic. While waiting for the latter crown, you'll wear a temporary one for a few weeks.
You'll return for your final appointment when the ceramic crown is ready. At that time, we'll place the completed product over your tooth. Afterward, they'll explain how to care for your new restoration.
The Benefits of Getting a Dental Crown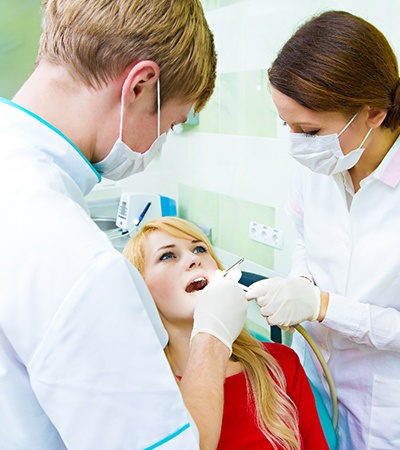 You'll receive several benefits when you get dental crowns at Dayton's Advanced Dentistry. The most common of these include:
Tooth Protection: A dental crown covers a tooth's damaged area, so it keeps the pearly white from needing later invasive procedures — root canal therapy, tooth extraction, etc.
A Nice Smile: A crown restores your smile's appearance without drawing attention to damaged teeth.
Better Chewing: A crown improves your mouth's comfort and chewing ability by covering up a tooth's broken or decayed portion.
Long-Lasting Results: If you properly maintain a crown, it could last for 15 years or more.
In the end, you can trust dental crowns in Dayton to get the job done. Therefore, go ahead and call us to set up your first visit!
Dental Crowns FAQs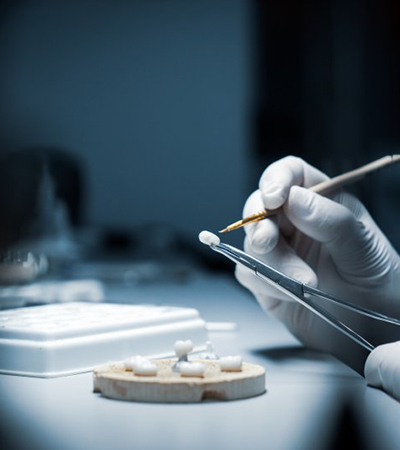 You may want to get dental crowns in Dayton. After all, they could make your teeth look and feel great! That said, it's a good idea to learn more about these prosthetics first. Doing so will help confirm if the treatment is right for you. Luckily, we at Advanced Dentistry of Dayton came prepared: below are the answers to some frequently asked crown questions. Read them to get a better feel for our dental caps! Otherwise, you can always call our office for relevant details.
Are Dental Crowns Safe?
You can rest assured: when placed by an experienced dentist, a dental crown should be 100% safe.
You see, crowns aren't toxic. Unlike metallic fillings, metal ones don't have mercury — a material that can harm oral health. Furthermore, tooth-colored crowns rely on toxin-free ceramic and zirconia. There is a slight risk of allergies to a crown's alloy or porcelain, but these are minor.
Still, it's better to be safe than sorry. As such, call Dr. Mularczyk if you suffer gum irritation, redness, or swelling near your crown. Such things could point to an allergic reaction that should be treated.
What Happens If You Wait Too Long to Get a Dental Crown?
As a rule of thumb, a dentist only suggests a crown if you really need it. It's thus best to get one soon after you're told to do so. If you don't, you'll put your mouth at risk.
Remember, a tooth that needs a crown is damaged and vulnerable. Putting off treatment will expose it to chewing forces, food debris, and bacteria. Should that happen, your pearly white's decay or damage will worsen. The dentist may even be forced to perform a root canal or extraction.
To preserve your natural tooth, then, get a crown right after your dentist recommends one.
Does It Hurt to Get a Dental Crown?
When done by a professional dentist, a dental crown treatment is painless. It shouldn't cause any discomfort to your teeth, gums, or the rest of your mouth.
As with fillings, dentists numb your tooth before crown placement. Your mouth, therefore, won't feel anything from the procedure. (The numbing effect only requires a topical anesthetic, but severely nervous patients may benefit from sedation too.)
Admittedly, your tooth may feel slightly sensitive after the preparation and placement stages. This symptom should only last a few days, though, and it's treatable with over-the-counter pain relievers. However, call your dentist at once if the discomfort worsens.
Do Dental Crowns Feel Natural?
Your crown will feel increasingly natural just days after its placement. From there, you can rely on it as you would your other teeth.
For starters, crowns are made from durable materials like ceramic and zirconia. As a result, they can stand up to chewing forces as easily as enamel. Your prosthetics, then, shouldn't feel strange when eating.
Furthermore, dentists work to ensure a crown fits comfortably. The prep work, for instance, reshapes your tooth so the restoration won't upset your mouth. Each crown is also customized based on dental impressions, which ensures the prosthetic doesn't feel awkward.